"St. John's makes me think of school because I used to go to pre-k here. It makes me think of my friends at Sunday school. St. John's also makes me think about God and Jesus. I like to watch the candles and cross come down the aisle at the end of the church service. And I love to eat the muffins and drink juice in the big room after the service and run around with my friends." – 5-yr old parishioner
Family Liturgy
On the first Sunday of the month, in lieu of Sunday school, children are invited to participate in the full liturgy with the entire congregation, serving in various capacities.
Acolytes (2nd Grade and older)
Acolytes (altar servers) assist in the liturgy by carrying the processional cross, the torches (big candles), and the Gospel book and the St. John's banner on special occasions, and by assisting the clergy with various tasks during the service. Students in second grade and higher are invited to serve as acolytes, after attending a brief training session. Any children interested in becoming acolytes are encouraged speak with Mo. Alissa.
Children's Church
On occasion, children gather in the undercroft for a full worship service with Eucharist.
Children's Choirs
Children (ages 4 through 8) can participate in St. Cecilia's choir.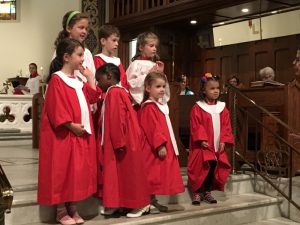 Save
Save
Save