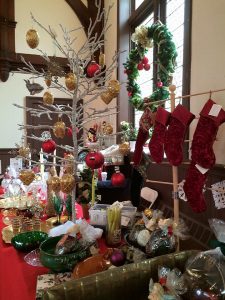 The ECW Christmas Bazaar
Saturday, November 16, 2019
10:00am – 3:00pm
This year, the bazaar promises to delight young and old with treasures galore in a range of categories:
White Elephant – Everything from kitchen essentials to quirky, one-of-a-kind must haves. Come browse the collection and you're sure to find something you or your loved ones can't live without..
Jewelry – Get your glitter on for the holidays with festive costume jewelry and a selection of fine jewelry pieces.
Collectibles – A treasure trove of crystal and fine china. You never know what you'll find in collectibles!
Handcrafts – Come see the amazing handwork of your fellow parishioners. You'll find one of a kind items that are perfect for holiday gifts. If you would like to share your talent and make something for the handcraft table, please contact Carole Woods.
Holiday Home – Beautiful tableware, stunning decorations and other seasonal items are sure to put you and your family in a holiday mood.
Children's Toys and Games – For the kid in you. Find your favorite childhood board game or pick up all those toys your kids have been wishing for at bargain prices.
Blazers and Bows – Time to get the kids dressed for the holidays. This area includes gently used festive dresses, and blazers and suits for kids ages 2-12.
Sports Equipment and Bikes – Outfit your kids for next season. Everything from hockey gear to soccer cleats…you'll find it all.  A wide assortment of bikes of all sizes, too.
Electronics and Renewables – Calling all tech-savvy shoppers! Find that much-needed but elusive spare part, or give new life to an electronics item that just needs a little TLC.
Silent Auction – Always a Bazaar favorite. Auction items may include tickets to a Broadway show or a week at a vacation home. To make a donation, please contact Jackie Plumez.
Delectable Delights – A variety of delicious homemade baked goods. You're sure to find a treat to satisfy your sweet tooth. If you would like to bake a special treat, please contact Deb Campbell.
Café – Join us for lunch in the Undercroft to enjoy the famous St. John's chili and a variety of snacks. If you would like to make a pot of chili for the café, please contact Lisa Young.
Donations will be received at St. John's as follows:
Sunday, 11/10:  12:00pm – 4:00pm
Monday 11/12 – Wednesday 11/14:  9:00am – 4:00pm
We are not accepting books this year.
Click here to find our HOW TO HELP!
All proceeds go to local charities through ECW Outreach grants.  For questions or to volunteer, please contact Jill Brennick.