St. John's Men's Group meets each Saturday 8am to 9am in the Parish office, except for the third Saturday of each month when we meet for breakfast at the BLD Diner in Larchmont (2399 Boston Post Rd). Come as you are for an hour of informal fellowship over coffee. Weekly attendance not required. Join us whenever you feel like it. Several times a year we cook and deliver meals for the Open Arms Men's Shelter in White Plains. Questions? Click here to contact Paul Schwendener.
Sprinting through the Bible in one year – a project of the St. John's Men's Group
The 8am Saturday morning Men's group is following a "Bible in One Year" reading plan for the year 2020. Click here for the proposed reading schedule.
Why try to read the entire Bible? As the mountain climber might say, "Because it is there." And why not? It's the world's oldest piece of literature, and the fundamental text of our religion. Note: It is NOT required nor expected that those attending our Saturday morning meetings have to read ALL the chapters listed for the week. Rather, each person is encouraged to explore as much or as little of the Bible readings as he would like. As usual, the Men's Group meetings will open with casual/ confidential conversation about whatever comes up. In the second half of the hour we will study a short excerpt from the Bible, selected from the week's readings. Coffee is served, and the meetings end at 9am.
Men's Spring Dinner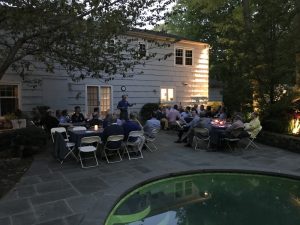 We held our second annual St. John's Men's Spring Dinner at Frank Pierson's home on Friday, May 17, with about 40 parishioners attending.  We kept the dinner casual, serving lasagna, salad, and a variety of libations.  Luck was with us, as we ducked a thunderstorm, and it was a festive evening.
Men's Dinner
Once a year, usually in early November, the men of St. John's get together for cocktails, dinner, and fellowship. Typically, 50-60 men attend the reception and dinner. We renew acquaintances and welcome new members. Sometimes, we have speakers; guest speakers have included authors, priests, journalists and a former prison inmate who was cleared through DNA evidence.