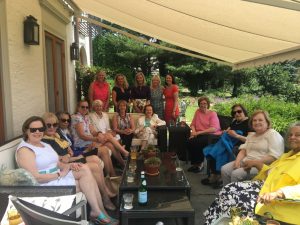 The Altar Guild is a group of approximately 30 people who work behind the scenes to make sure that everything is prepared in advance to allow our services to go forth without any interruption. Whether it is the weekly celebrations of Holy Eucharist or special celebrations of baptisms, weddings, or funerals, the Altar Guild makes sure that the correct linens, chalices, wine, and wafers await the clergy and anyone serving at the altar. It is a service of holiness to set the Lord's Table and a way to learn the vocabulary of the liturgy.
The group meets three to four times a year to hear from the Rector and discuss the next season of church festivals; Advent, Christmas, Epiphany, Easter and so on. Committees are formed to decorate for the feasts of Christmas and Easter. Individual members are part of a weekly committee of four or five and serve approximately every six weeks.
Training is given to any who might wish to serve. Scheduling is done via an online scheduling tool, SignUpGenius. Besides helping with the important job of making the church ready for the congregation, the Altar Guild is a fellowship of believers who enjoy being together and serving the parish.
For more information on the Altar Guild, please contact Ann Kirkham or Nancy Pierson.