We have an opportunity to make an impact in the community through taking part in addressing/ minimizing the food emergency when the 987 students in the Mamaroneck School District who are on the free and reduced lunch plan do not have access to adequate food during this COVID-19 journey while schools are closed.  We are now partnering with Larchmont Temple, St. Thomas Episcopal Church, Larchmont Avenue Church, St. Augustine's, The United Methodist Church in Mamaroneck, and St. John's Lutheran Church to "divide and conquer" this ministry. More houses of worship may join this initiative as it occurs.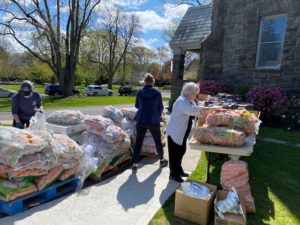 Ways to contribute to this effort:
Note that St. John's will have gloves on hand for use by volunteers.
There is still time to participate in this crucial food ministry.  After meeting with Aramark, who provides the sack breakfasts and lunches and the social worker this morning, here is what we are looking at going forward. Aramark will deliver and distribute sack meals.
1. Tuesdays & Thursdays, 10:15 am.
On Tuesdays and Thursdays, volunteers are needed to come to St John's at 10:15, load cars with the non-perishable food bags and divide and conquer the delivery to the three sites. We will drop them off close to the sack meals instead of distributing. Aramark will take any leftover bags back to Hommocks with them and store them there. This system will continue for the foreseeable future.
2. DONATE to this cause either by checks payable to St. John's Church with "Food Emergency Support" in the memo line or click here to donate online via PayPal.  These donations are covering the cost of food from US Foods.  This food is being distributed in the non-perishable bags which are being delivered twice a week.
3. Invite your friends and neighbors to volunteer in any of these ways.
Peace and gratitude for you all,
Lisa+