Belltower Update: October 14, 2018
We are very pleased to report that the belltower/roofing project is almost complete, with only a short punch list remaining. The belltower has a beautiful new copper roof, as you can see from the photos. New roofs have also been installed in the cloister area (the area that runs between the church and the parish hall), and the two flat valleys that run along both sides of the parish hall roof. (See photo.) In addition, extensive pointing work has been done on the belltower, cloister area, and parish hall masonry. Even the education building stonework has received some attention! Many thanks to all who have been involved, including the Belltower/Roofing Committee (Linnet Tse, Rick Berry, Kathy Brenner, Christopher Burrows, Hamilton Hadden, Jay Klancnik, and Sue Wahrhaftig); Francisco Vargas for his very diligent oversight of the day-to-day work; Superstructures, our architecture/engineering firm; Vesels GC LLC, our contractor; and our staff for being patient while work was underway this summer!
Belltower Update: September 2, 2018
The scaffolding is down and our contractors are in the final phase of the work!
Belltower Update: July 30, 2018
The work is progressing well. the construction team from Vesels GC LLC  is working long days and Saturdays in order to complete the work in a timely manner. The majority of the repointing work – both the belltower and Murray Hall – has been completed. All that remains of the repointing work is a portion of the Cloisters. The asbestos abatement work has been totally finished. Vesels is currently working on the Murray Hall roof valleys. We are pleased that Vesels is keeping the worksite very tidy and that the scaffolding, shrouded in a black netting, blends in quite nicely. Francisco has been a great asset and we thank him for his diligent oversight of the work.
What is the Belltower and Roofing Project?
The Belltower and Roofing Project is an exterior restoration project to address serious water infiltration issues that St. John's has experienced over the past 18 months. The work will center around the belltower, the cloister area (the area between the sanctuary and Murray Hall), and Murray Hall.
Specifically, the project includes:
Belltower: masonry repairs and replacement of the copper roof
Cloister area: replacement of the flat roof and masonry restoration
Murray Hall roof: slate repair and replacement of the two roof valleys
Murray Hall vestibule: masonry restoration
Church building: miscellaneous slate roof repair – replacement of broken slate tiles
Education building: miscellaneous mortar repairs around main doors and first floor windows
The photograph below shows the location of the main projects: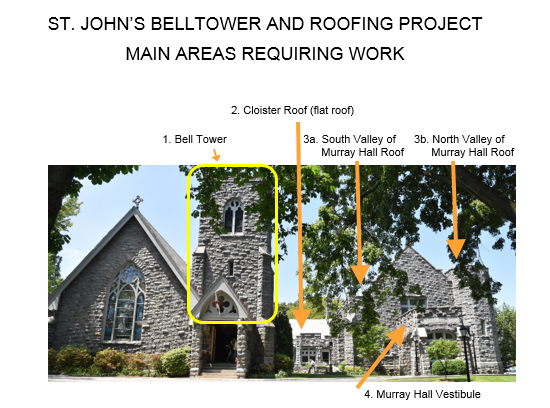 Learn More About this Project:
Please click on the links below for more information. Note that some of these documents are password-protected. If you need the password, please contact the office by email or phone (914-834-2981).