Give them an inquiring and discerning heart, the courage to will and to persevere, a spirit to know and to love you, and the gift of joy and wonder in all your works.

~ The Book of Common Prayer, p. 308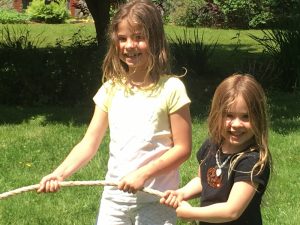 In worship, education and outreach opportunities, St. John's strives to provide an environment in which children and youth can thrive, both as members of St. John's and the Episcopal Church and as members of the larger communities in which they live and go to school. Parents and other St. John's members are involved as Sunday School teachers in coordination with Rev. Lisa, our Rector.
Our children grow personally in faith through our religious education classes and the many special programs developed to enhance our children's spiritual development. Learn more about what St. John's has to offer its children/youth:
St. John's Nursery School
As a service to our community, for both members and nonmembers, St. John's operates a weekday nursery school for 2, 3, and 4-year-olds. The children of St. John's members are given priority in terms of enrollment. For more information, see the nursery school website, email the director, or call (914) 833-2870.
 
Save