Acolytes (Grades 2-12)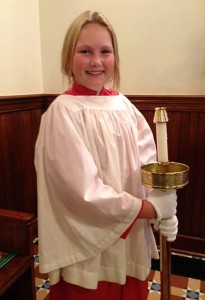 Acolytes (altar servers) assist in the liturgy by carrying the processional cross, the torches (big candles), and the Gospel book and the St. John's banner on special occasions, and by assisting the clergy with various tasks during the service. Students in second grade and up are invited to serve as acolytes, after attending a brief training session.
Christmas Eve Worship (Grades 6 and up)
Students in grade six and up are invited to collaborate with the clergy in designing and leading the 5 p.m. Christmas Eve Lessons and Carols liturgy. Students read or dramatize the scripture lessons, lead the Prayers of the People, and perform special musical selections.
International Service Trip (Ages 15 and up)
St. John's parishioners age 15 and up are invited to join the parish's annual service trip. For the past several years, we have been traveling to the Dominican Republic to help build homes. This is a wonderful occasion to build cross-cultural relationships, to understand issues confronting resource-challenged communities in a developing nation, to become advocates for sustainable development, to build relationships with fellow parishioners, and to better understand the connection of our faith to social action. Read more.
Save
Save