What do you get when you combine a love of sports with holy saints? Lent Madness, of course. Based loosely on the wildly popular NCAA basketball tournament, Lent Madness pits 32 saints against one another in a single-elimination bracket as they compete for the coveted Golden Halo. But it is more than that: Lent Madness is really an online devotional tool designed to help people learn about saints.
Here's how it works: on the weekdays of Lent (with one exception), information is posted about two different saints on www.lentmadness.org.  Look at your bracket to see who you selected in that faceoff, and then cast your vote.  (Each pairing remains open for a set period of time – 8 am to 10 pm – so you will have time to during the day. The next morning you see how you did the day before and vote for that day's pairing.  16 saints make it to the Round of the Saintly Sixteen; eight advance to the Round of the Elate Eight; four make it to the Faithful Four; two to the big dance, and the winner is awarded the Golden Halo. The first round consists of basic biographical information about each of the 32 saints. Things get a bit more interesting in the subsequent rounds as we offer quotes and quirks, explore legends, and even move into the area of saintly kitsch. It's fun, it's informative, it's the saintly smack down!  For more information and to sign up, contact Dave Ingram.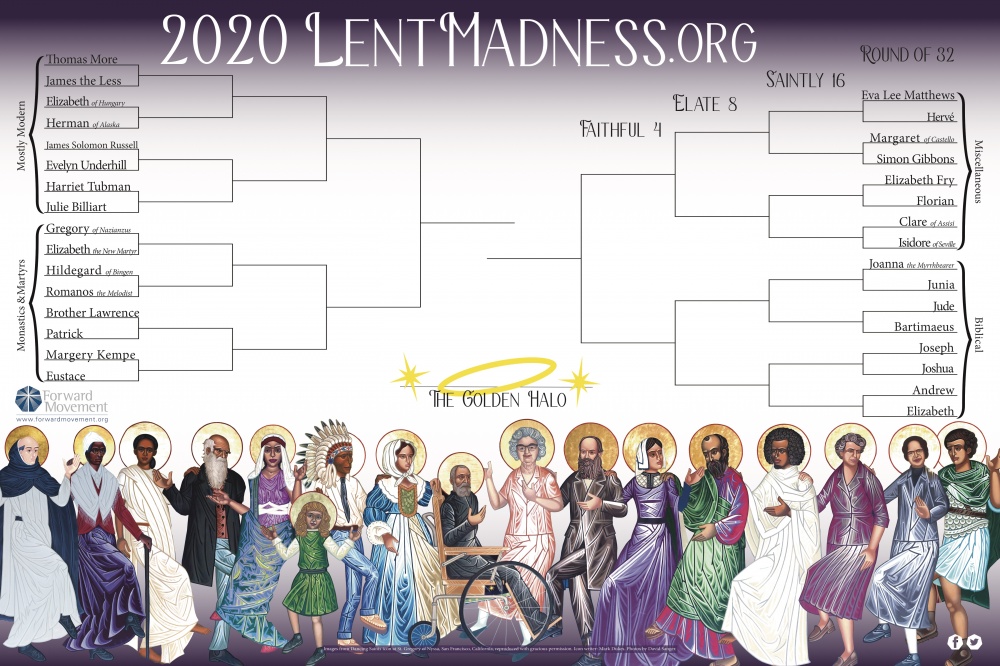 To win in 2020, will take grit, determination, holiness, and perhaps some good old-fashioned luck. This year Lent Madness features a slate of saints ancient and modern, Biblical and ecclesiastical.   To help determine who you pick for your bracket, there will be copies of the newly published Saintly Scorecard: The Definitive Guide to Lent Madness 2020 available for purchase. Total buy-in is $21, which covers the cost of the book and your contribution to the pool.  The winner will decide what charity or charities receives the total pool.  We are joining with All Saints and St. Thomas in the competition. Their pool last year was $800.00. With all three churches, we are hoping that over $1000 will end up going to the chosen charity.
This all kicks off on "Ash Thursday," February 27th, and will continue throughout the 40-day season of Lent. To participate, log onto www.lentmadness.org, where you can also print out a bracket and fill it out to see how you fare or "compete" against friends and family members. Like that other March tournament, there will be drama and intrigue, upsets and thrashings, last-minute victories and Cinderellas.  The Rev. Carol Gadsden (St. Thomas) will keep score for all of the participants, providing weekly updates.
If you're looking for a Lenten discipline that is fun, educational, occasionally goofy, and always joyful, join the Lent Madness journey. Lent needn't be all doom and gloom. After all, what could be more joyful than a season specifically set aside to grow closer to God?
For more information and to sign up, contact Dave Ingram.