All of our Formation groups are currently meeting remotely. Click here for the schedule.
Sunday-school classes are offered for children three-years old through fifth grade during the 10 a.m. liturgy. Children are first dropped off at their classrooms at 10 a.m. before rejoining their families in church to participate in Holy Communion.
Pre-K through 2nd Grade
Meet in the lower level (undercroft) "fishbowl" room.
Our youngest Sunday School students are taught using the Godly Play curriculum. Godly Play is an internationally recognized and acclaimed program based on the principles of Montessori education.
3rd through 5th grades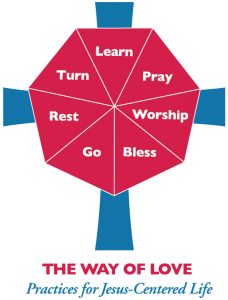 Meet in the lower level (undercroft) side classroom.
Older students are exploring the "Way of Love," Presiding Bishop Michael Curry's call to Christian practice and engagement structured according to the seven components Turn, Learn, Pray, Worship, Bless, Go, Rest. The curriculum will use materials from The Episcopal Church and Episcopal Children's Curriculum. The Way of Love is a church-wide movement, and you may wish to delve deeper and get involved as a family. More introductory material is included below:
Click here for Bishop Curry's Invitation to the Way of Love.
Click here for a page containing a video introducing the seven components.
And click here for a resource for integrating the Way of Love at home.
Voyagers (sixth, seventh, and eighth grade students)
Known as the "Voyagers," sixth through eighth students meet approximately twice a month during the academic year on Wednesday evenings for pizza and a lively exploration of our Christian faith. Lessons and discussions relate to their middle-school lives as well as the larger world around them. Each class concentrates on one well-known Bible story and its relevance to the lives of today's youth, as well as a focus on their Episcopal identity.
Meeting remotely due to the Covid-19 pandemic, the Voyagers have been very creative in their discussions and projects. Check out this retelling of the Joseph story that they produced:
In the past, Voyagers have also participated in several outreach opportunities, including an overnight trip to the Heifer International farm in Rutland, Mass, serving others at a community dinner and sorting groceries at a nearby food pantry.
Confirmation Class
Students in ninth grade and older are invited to receive the sacrament of confirmation. Confirmation classes will begin in the winter/spring, with a family orientation meeting in late fall.  Classes are led by one of the clergy. More details coming soon.
High School Youth Group
This year, on the first and third Sundays of the month, high school students are invited to come together to enjoy each other's company, ask hard (and easy) questions, explore what it means to make good decisions and become more fully our true selves, provide opportunity for listening and being heard, consider how best to share Jesus' love with our world, and most importantly, cultivate space for encountering the living God.
Special-Needs Students and Sunday School
Our Class Buddies program pairs specially chosen high-school students as "shadows" for special-needs learners in the Sunday-school classroom. Class Buddies allows children who require a little extra guidance or support because of developmental hurdles to experience the love of Christ and spiritual development in the Sunday-school class environment. For more information, contact Rev. Lisa.
Save